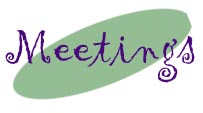 Women in Their Twenties (WiTT) meets at 8:00 P.M. EVERY Friday at the offices of the Lesbian Services Project (LSP) at 1810 14th St. NW, Washington, DC. LSP is affiliated with the Whitman-Walker Clinic.
LSP is located right near the corner of S and 14th Sts. NW, about three blocks from the U Street Metro exit and about six blocks east of Dupont Circle. LSP is located across the street from The Black Cat, a local concert venue.
To get to LSP from the U Street Metro stop, use the exit at 13th & U Sts NW. At the top of the escalator, walk straight down the street, crossing over 13th St and turning left at 14th St. Go two blocks south on 14th St., and you'll see the sign for LSP near the corner on the left side of the street just before you cross over S St. NW.
Our group is led by several facilitators on a rotational basis. Facilitators lead the group in discussion topics (both serious and silly, GLBT-related or not). New people are always welcome. We follow the discussion with dinner at a nearby restaurant. These are usually reasonably inexpensive and have vegetarian/vegan options.
Other events can follow the dinner, such as a trip to a gay bar, or we might have other weekend events planned. Past events include hiking in the Shenandoah mountains, beach trips to Rehoboth, Gay Night at King's Dominion, museum and festival visits, water tubing at Harper's Ferry, snow tubing at Liberty Mountain, dinners out, and volunteering.
Check out our Events Section to see what's in store for the next few weeks.
Our meetings are open to all lesbian, bisexual, transgender or interested women in their 20s and we welcome a diversity of experiences and opinions. We hope to see you soon!